When in doubt, gratitude…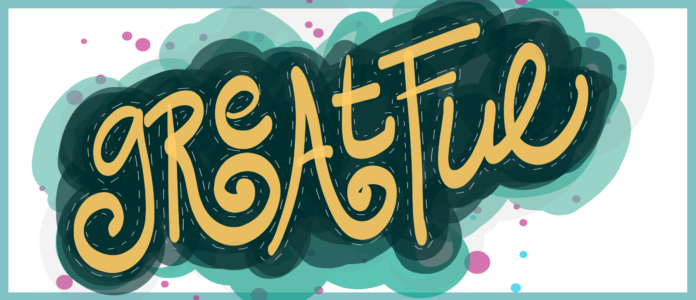 Dinner time!
For at least a year now, when my family sits down at the dinner table, we each share something we're grateful for (from that particular day). This began because it seems like there's so much negativity in the world—and I wanted to start our meal with something positive. Something that's brought us joy.
What I didn't expect was that this moment of gratitude would:
Bring our relationships closer together. It's helping me learn about my sons' lives at an age when they aren't especially chatty.
Brighten our outlooks—because paying attention to the good things certainly makes them easier to find.
Create a little white space before our meal, which helps us appreciate our food instead of scarfing it down mindlessly.
Why am I talking about this? Because as the year ends, I'm reflecting on what's worked and what's lacked…what I want to do more of. What's really important! One thing that really stands out is these quick-but-awesome, pre-lasagna moments of gratitude. If this small act sets the stage for a nice family dinner—perhaps it could set the stage for a successful project at work, too?
Hey, we're all human!
As businesspeople, it's easy to get absorbed in marketing goals and urgent timelines…in checking things off our to-do lists and having a "This is what I need from you!" mentality. Of course our work matters. We're making things bigger than ourselves. But is a project still a "win" at our own detriment? If we forget to be kind human beings along the way? I think taking a moment of appreciation brings connection—so everyone can remember, hey, we're all human!
Supporting the magic spark in others
Maybe it goes beyond just humanity and feeling good? Perhaps it produces better outcomes as well. In the hectic pace, we can sometimes think of others as a means to an end. But what if appreciation is the most easily-accessible form of magic? I know in my case, when I feel appreciated, it brings an invigorated passion and naturalness to my work. I feel more connected with my inner spark. Do you feel the same?
My gratitude goals
For 2018, I want to bring more conscious moments of pause…of gratitude…into my business and life.
Think about why and how I appreciate those extra hands.
Take a pause to say a genuine thank you, even during the busy moments, to the people who help me.
Expand positive moments. Instead of shrinking them.
Make changes where something no longer serves me (where I can't find the gratitude anymore).
I might just start each business day with a moment of gratitude in 2018! What do you think?
How do you incorporate gratitude into your life and business?
I would love to know! Please comment below.
P.S.
Want more like this? Please join me by clicking here.