Top 7 Musings After AdobeMAX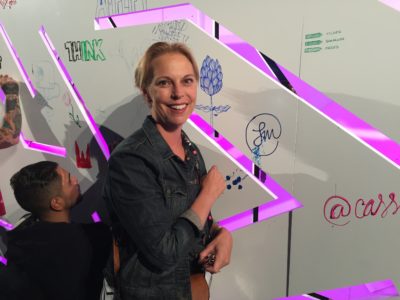 I attended AdobeMAX — the Creativity Conference and it did not disappoint. The gathering in Las Vegas attracted over 12,000 people and was organized by Adobe, the software giant known for Photoshop, Illustrator and InDesign programs — the tools I use every day.
I love this conference. It is a healthy mix of practical sessions, inspiration and fun. On top of that, it is a collaborative and welcoming experience, where speakers and attendees all share tools, tricks, advice and more.
I experienced four glorious days of inspiration in the City of Sin. And while I learned and could share some Photoshop shortcuts, new ways to use Illustrator and amazing uses for new Adobe products that I never knew were possible, with the gift of time, I have some reflections and questions that keep popping to my mind.
I will share some brief contemplations and thoughts here.
Enjoy!
Commit.
"There are a lot of men and women in the world. But you choose one and try to make it work. There will be trouble in between. You will try to solve those and find a way around. You need to choose a direction and try to solve the problem of that specific design and stick to it." – Martina Flor
Creative ideas are like relationships — You find ideas and initially, you explore a little.  When you find one that works, jump in and don't look back. Spend the bulk of your time and energy making it the best it can be.
In a world of so many choices (the Cereal aisle alone! Yikes!), how can we evaluate, commit and not look back, yet still leave ourselves open to new ideas and experiences?
Lettering Design from Sketch to Final Artwork
Humbly Celebrate Yourself.
Robert Generette III has created some amazing work and been recognized and celebrated for it. I was in awe about how approachable and humble he was in his talk. I loved how he shared his work, his process and celebrated himself and accomplishments in an authentic way.
How can we find more ways to humbly celebrate ourselves without being arrogant? Focus less on our downfalls and mistakes and more on the amazing things we do every day.
Bonus from this talk:
@rob_zilla_iii  also shared his three tips for creating. Why are these three simple tasks so hard for artists to do? I know I am not alone here. Note to self:
No comparing
Draw constantly
Share
Adventures in Mobile Drawing: Fun, Functional and Inspirational
Small Gestures = Big Joy.
Easter Eggs (hidden messages, jokes or secret features found in software programs and games) abound in our digital world. It is always fun to discover and use them. Jesus shared how to add a banana to my tools palette in Photoshop. (Edit > Toolbar… Shift+Click Done) and BAM! Banana!
On arriving home, I immediately added a banana to my Photoshop tool bar on my iMac and Laptop. It is a bright spot in my digital day. Which made me think…
In our connected world of Facebook, Twitter and Pinterest, some small gestures might seem lacking and not worth the small amount of effort. Yet, these small moments are some of the memories and experiences I truly savor. How can we plant more Easter Eggs in our daily lives? What small gesture can we facilitate to add a spark to someone's day?
I wish I'd known that! Photoshop Power Shortcuts for Designers
The Power of Giving Everyone a Voice.
This was the last session I attended and after 4 days, I was feeling information overload in a big way. At the time, I thought this session was a little odd. Yet, upon reflection, it was a slice of brilliance:
Everyone in the room had a voice. Everyone had a chance to be heard. Noreen showed the room how to facilitate with pure curiosity, free of judgement and politics. Not everyone got what they wanted. They might have not even agreed. But they were heard.
How can we invite more people to be heard? How can we bring more people along the decision-making journey, empowering them to speak up and share?
Creative Group Therapy: Joy & Creativity for You, Your Team and Your Clients
(Warning: F-bombs abound, so wear earphones)
"Women are the Best Investment We Can Make in our Shared World."
I was captivated hearing Photojournalist Annie Griffiths – one of the first female photographers to work for National Geographic — share a snapshot of her prolific photography career that has spanned nearly 150 countries. Her quote that grabbed me:
"Unbelievable, how few stories are told about women. And they are almost always portrayed as victims. And the focus is often on their sexual vulnerability. That is just not fair or accurate or fair in any way. They are amazing."
I have so many thoughts about her talk, and this quote, in particular. How can we lift more women up? Celebrate their achievements?
If you watch one link from this blog post, this should be it. It is well worth 20 minutes of your time.
Give Time to "Ridiculous" Ideas.
Five glowing bunnies popped up at the AdobeMAX Bash, alongside food trucks and live music. I had taken my boys to see this installation at the Civic Center in San Francisco in the daylight and was thrilled to walk among them at night.
While giant, lit-up rabbits might seem silly or ridiculous, the artists had a big message to share (read about it here).
Which made me think, what ridiculous idea have I shunned not only for myself, but for my children? How can we allow time to explore what might, at first, seem ridiculous to create something magical and powerful?
True Connections in the Digital Age are Possible.
I have been toying with the idea of a Facebook Fast, as I am started to feel less connected to my friends and family instead of more connected — a topic for another time. And then, a man named Dax created a Facebook Group initially called, "Adobe MAX — I am going RU?" which connected 400+ people before and during  the conference.
In a sea of 12,000 people, attending a conference by yourself can be lonely. This group created excitement and community leading up to the event. And once people arrived, there were opportunities to meet up for meals, drinks and other events.
On a Platform that boasts connectivity, the use of groups to connect on Facebook truly did inspire connections. More and more, Facebook is being used to share quick, off-the-cuff, emotionally-fueled content without much thought. How can we use Facebook to share more ideas and experiences in a thoughtful way?
Did you attend? Please share your experience.
Want more like this?
Please join me by clicking here.
Thanks for reading!