Designing AND Drawing: Can Your Designer Do Both?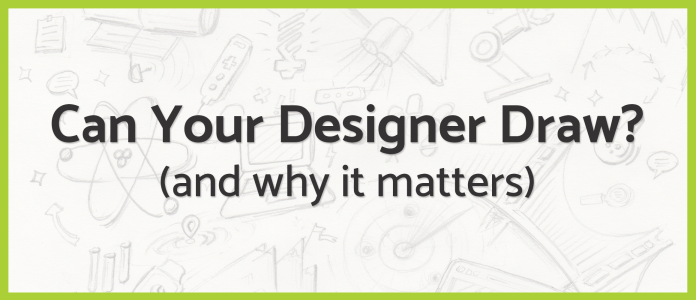 Have you ever met a person who is an amazing cook? Someone who could turn an ordinary meal into a succulent dining experience in her own home? As you're finishing the first course, you are already salivating over what kind of delectable dessert she has come up with to finish off the meal.
Then she shares with you that she cannot bake a pan of brownies or even a boxed cake mix and make it into something edible.
You're in shock. But can't every good cook also bake? You learn the answer is: not necessarily.
I have recently run into a similar scenario but one that pertains to drawing and design. I studied both art and design in college. Drawing, illustration, and graphic design have been part of my practice for 20 years. I had assumed that designers could both draw and design. But between my latest LinkedIn recommendation and this fastcodesign article, I have learned the answer is: not necessarily. I have to say that I am shocked. I use drawing quite frequently in my design and design all the time in my illustrations.
Hiring someone who has a handle on drawing is important because:
You save time.

You have stronger ideas.

You get more unique solutions.
Let's take a closer look at each of these reasons.
Sketching Saves Time in Your Tight Schedule.
I find that my clients often need to see something before they can give me any constructive feedback. This need for a visual is why sketching is so helpful. In meetings, a quick doodle up can start conversations and offer instant clarification. Alternatively, sketching some layout options, snapping a photo, and emailing it to the client can keep your project moving in the right direction. Not only are you saving time but also money and frustration. You can read more about how this worked for Agilent here.
Illustrating Makes Your Ideas Stronger.
Quickly sketching out ideas can show if an idea is working — or not. As a case in point, for the last three years I have designed the creative concepts for the annual Advantest Voice Conference. Typically they send a detailed creative brief, I sketch ideas, pick the strongest and go to the computer. Usually that works.
This past year was different. The concept, the text, and the visuals they were suggesting didn't seem right. So instead of sending designs on the computer, which can be a tedious and time-consuming process, I sent them rough sketches. The marketing team could see that the initial idea — while great —  needed more refining. Advantest was able to respond with a stronger message and immediate direction of what was working and what wasn't. From there, we were able to nail down the concept on the computer quickly.
Drawing Leads to Unique Solutions.
It doesn't take a rocket scientist for someone to learn the basics of the core design programs. But do you really want just anyone cobbling together your logo or a layout? When you use a designer that draws ideas and sketches them out before even touching a computer the solutions are more unique. Especially when developing a logo, designers tend to have a unique style with no two drawings exactly alike.  
Here is an example of an initial sketch and final logo. You can see the rough parts on the leaf that remain from the original drawing. It's those hand-drawn details that give your projects a look that stands out from the competition.
Now you may be asking why is it important that illustrator can design?
For the same reasons outlined above, but with two notable exceptions:
You work with your layout in mind.

You know how to prepare the final files.
Start with the layout in mind.
In my most recent project for Agilent, I kept the end goal in mind. I drew to the original concept layouts knowing there would be text in the middle of my layout and putting the most important drawings away from where the text would be situated.
Final files are done right.
Designers know how they want to receive final artwork from an illustrator. They want clean files that are easy to open and edit if need be. I can't tell you how often I have received an illustration that I needed to edit and couldn't do so easily.
Next time you hire a designer, search for one who has both drawing and designing in his or her portfolio. You'll be glad you did.
Can your designer draw? Can your illustrator design?
I would love to know! Please comment below.