Affectionate dogs and the power of tone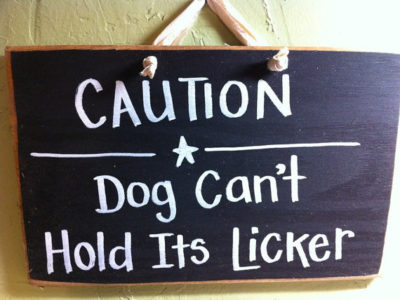 Caution: Dog can't hold its licker.
This sign has been mounted outside my home for years and just recently, I realized how perfect it is. "Dogs can't hold their licker" pretty much says everything about my home, life, and family in one short statement.
Visitors to my home will know immediately that they will be greeted by licky, happy, spirited dogs who are allowed on the furniture. As Applejacks and Stella trot towards you ready to give kisses, it will be clear to you that THE SIGN and the reality of my environment align.
Upon entering, it will make sense as you see bright, fun and inviting colors, furniture that's casual and comfortable (and sprinkled with pet hair), a big canister of treats, and a few toys strewn around for good measure.
Now wouldn't it be weird if the sign said, "Dogs can't hold their licker" and you entered to find two well-trained Dobermans sitting in the corner in an all-white, modern, sterile house?
This is exactly what TONE is all about, and why it's so important.
When your tone—the words and way you speak about your organization—align with the visuals, you create an experience for your audience.
Finding your organization's tone
When I'm gathering information to start a new project, some of the questions I ask in my creative brief are:
Do you have a specific tone or voice established or is this something you need to define and create?
What adjectives describe the feel or approach? Can you give a few words that describe the company and its values?
Is your company funny? Casual? Formal?
These answers help me narrow down the focus so we can meet your business goals and create an emotional connection. The reality is, brands who are like everybody else don't stand out. They don't create emotional connections.

Knowing your tone gives you more opportunities to connect.
MOO is a custom online printing company. Instead of a "newsletter," MOO has a "MOOsLETTER." And when you order something, Little MOO, the friendly print robot, helps you along the process. By knowing their tone, MOO is able to be consistent, fun and memorable throughout their entire brand—and by knowing yours, you can too!
What if they don't like licky dogs?
Not everyone likes licky dogs in a fun-for-all environment. Some prefer more reserved dogs and a more structured, serious, meticulously-vacuumed environment. But there is no use in trying to be something you're not. It will just waste everyone's time! My goal is to show off your authentic organization so those who align with it can LOVE it, and those who don't can't move along to find a better fit.
If you can be clear about your organization's tone, design can really flourish! As long as your tone is married with the promises you're making and the way you're engaging with your audience, it can be a really powerful (and necessary) differentiator.
Sometimes the question of tone can be answered by one sentence as simple as, "Caution: Dogs can't hold their licker." Even one line can be the barometer for everything else.
What's your organization's tone? Do you have a statement that defines it?
I would love to know! Please comment below.
Want to develop a clear and actionable plan to guide your next creative project to success? Download my free guide: The Creative Brief Toolkit.